Handhelds in Education Case Studies
These case studies show some of the ways that innovative educators are using handheld computers in education:
For more case studies, see Palm's K-12 Success Stories.
---
Westside Union and Wilsona School Districts
Antelope Valley, CA
Overview:
Powerful Access to Writing Standards (PAWS) is a two year EETT-funded project that is a collaboration between the Westside Union and Wilsona School Districts. It designed to improve student writing performance through increased access to technology.
Details:
The Westside Union and Wilsona School Districts are located in the northern portion of Los Angeles County in the rapidly growing and ethnically diverse Antelope Valley.
These two districts collaborated with K12 Handhelds to write a successful EETT grant application for the Powerful Access to Writing Standards (PAWS) project. PAWS involves four middle schools and a total of approximately 25 language arts teachers working with over 2,500 students.
The program was designed to improve student writing performance through increased access to technology. The technology included a variety of hardware and software, such as handhelds, desktop computers, Inspiration, Criterion, and Accelerated Writer. An extensive coach mentor professional development program was put into place to support this.
In addition to helping to write the grant for this program, K12 Handhelds made recommendations on hardware, software, and curriculum to support the program's objectives.
K12 Handheld's role in the program implementation was to provide initial professional development, as well as on-going coaching and mentoring. This took the form of extensive in-classroom time with participating teachers. Initially, this was done through modeling lessons that integrated technology to teach students writing strategies. Over time, this evolved to side-by-side teaching with participating teachers and then a back-of-the-room support role. Gradually, the coach role is being transitioned to on-site project coaches.
K12 Handhelds staff also provided curriculum development services for the project. Teachers requested materials such as lessons on grammar, writing strategies, figurative language, vocabulary, and other topics, and these materials were developed integrating the technology acquired by the districts. K12 Handhelds also developed and maintained a project blog, which helped to build a learning community among the participants. A parent/community blog was also developed to share project successes with families. K12 Handhelds helped present at several parent night events, which were held to help increase home-school communications.
The results of this project have been significant. Students have increased their access to and comfort with technology. Teachers have also become fluent with the use of a variety of new tools. Most importantly, student writing quantity and quality has increased, as measured by benchmark essays written by all students. Anecdotally, some students have found a joy in writing as a result of this program. Comfort level with the writing process has increased, and students have expressed a feeling of specialness as a result of being involved in the project.
---
Monroe 2-Orleans BOCES
Spencerport, NY
Overview:
The Monroe 2-Orleans BOCES coordinated this project, designed to engaged special needs students at five school districts in math curriculum. Using handhelds and custom-designed curriculum resources, students have become much more engaged in the state standards.
Details:
Monroe 2-Orleans Board of Cooperative Educational Services (BOCES) is an intermediate unit and one of the 38 BOCES in the state of New York. They serve nine school districts in western Monroe and Orleans counties, in the Rochester area.
The BOCES' Education for Exceptional Children program provides services to meet the needs of students with a variety of abilities that cannot be completely addressed by their local school districts. The handheld program at the BOCES was initiated by the Instructional Technology Team for the Department of Education for Exceptional Children.
The program was funded through a grant from the state of New York. The goal of the program was to use handheld technology to engage middle school special education students in mathematics. The participants in the program included BOCES teachers located at various sites, including St. Joseph's Villa, Brockport, Spencerport, Churchville, and Hilton school districts.
The BOCES contracted with K12 Handhelds to provide consulting, professional development, software, and curriculum for this program. This began with consulting with the BOCES staff to determine which software programs would best meet their needs. K12 Handhelds then conducted two full-day workshops to introduce the teachers to handhelds and to the use of various mathematics software programs.
Then, K12 Handhelds and the BOCES teachers collaborated on the creation of a collection of electronic mathematics curriculum resources. The teachers brainstormed about which lessons and topics in their curriculum would be most valuable to have on handhelds. They then supplied these ideas to K12 Handhelds, along with samples of their existing print curriculum resources.
K12 Handhelds then took those materials and developed electronic resources that were correlated to the New York State Learning Standards for Mathematics. The materials developed included math movies, interactive ebooks, quizzes, games, and activities. The topics covered included integers, coordinate planes, tables of values, word problems, decimals, proportions, exponents, factoring, algebra, and statistics.
One popular part of this program was a series of math movies that give explanations and step-by-step demonstrations of solving various types of math problems. These movies are a good tool for differentiating instruction for different student needs. They can also be viewed by students as many times as needed to master the content. As one teachers said, "The video was great...it gives student a moving set of instructions that they can watch over and over again." The movies are viewable on the handhelds, as well as on laptop or desktop computers and even online, making them appropriate for home use.
The results of this project were very positive. The participating teachers embraced the technology. They reported that their students, many of whom had struggled with math in the past, were now more engaged and on task. One teacher said, "The Palms are so great for the classroom! My students actually want to do their math and writing each day just so they can use the palms. Students that normally do not complete any work and usually hate school are actually working and attending each day." Due to this success, the program has been expanded, and there are plans to expand it further in the future.
---
Wicomico County Public Schools
Salisbury, MD
Overview:
Wicomico County Schools use handhelds with their administrators, teachers, and students. They recently embarked on an innovative project to help teacher integrate handhelds into their standards-based curriculum.
Details:
Wicomico County Public Schools is located in Eastern Maryland and has 24 schools serving over 14,000 students.
Wicomico County's handheld project began in 2003. They are using handhelds in 24 schools with approximately 84 administrators, 207 teachers, and over 800 students. They use handhelds in a variety of innovative ways and are the host of the Mid-Atlantic Handheld Conference.
K12 Handhelds worked with the county on some of the initial professional development for their administrators and teachers. These first sessions included basic handheld training, curriculum integration strategies, and administrator training. Administrative buy-in is an important part of Wicomico's success.
In 2005, K12 Handhelds embarked on a custom handheld curriculum development project for Wicomico. The project began with a full day of planning with the 10 teachers involved, facilitated by K12 Handhelds. These teachers, all of whom had classroom sets of handhelds, were asked to choose lesson plans that could integrate handheld use in the most meaningful way. Criteria were given to help identify lessons that could best use handhelds to benefit teachers and students significantly. Teachers then outlined handheld resource materials that they would like to have developed for these lessons.
K12 Handhelds then spent several months working with the Maryland state curriculum standards and the teachers' lesson plan suggestions to create a customized handheld curriculum for Wicomico. K12 Handhelds' content developers created a total of 20 standards-correlated lessons that included a total of over 200 electronic books, virtual field trips, handouts, worksheets, videos, audio clips, graphic organizers, matching activities, quizzes, and other resources. The electronic materials were delivered on SD cards with "installable" content for ease of distribution.
The topics for the lessons included the environment, geometry, the water cycle, fossils, poetry, and Maryland geography. An example of materials created is a series of weekly vocabulary word videos. These were targeted at first grade students. Because many of these students are not proficient readers and the simple words often didn't lend themselves to picture flashcards, the developers chose to create videos that included the word being said, a picture with a sample sentence read aloud, and then a chance for the student to pronounce the words him or herself.
Another feature of this curriculum is a series of virtual field trips that allow students to explore content and remote sites through the handheld. As an example, in the erosion unit, students could explore a virtual field trip to sites around the world, such as the Grand Canyon and glacial hill in Ireland. As they visit these sites, students complete a field trip worksheet to record the various sites, what type of erosion was found there, and other relevant facts.
An important feature of this curriculum was the inclusion of strategies for differentiated instruction. Like most districts, Wicomico has a wide range of learners including those reading and performing below level, English language learners, and gifted and talented students. The materials were adapted for multiple needs through extensive picture support, video and audio, linked glossaries, ebooks developed at multiple levels, use of graphic organizers, and content presented in many formats.
This project is an excellent example of the effective integration of technology into the curriculum to support state academic standards. Often the work of integration and materials development is put on the shoulders of teachers. In this case, the goals, ideas, and creativity of the teachers drove the project, but a great deal of the development work was done by K12 Handhelds. This resulted in a high quality curriculum that will help teachers make the most of the district's investment in hardware, software, and professional development.

---
The Avery Coonley School
Downers Grove, IL
Overview:
The Avery Coonley School incorporates handheld computers as tools for students to navigate their daily studies.
Details:
The Avery Coonley School is an independent, non-denominational elementary school serving academically gifted children pre-kindergarten through eighth grade.
Fourth-grade teachers Mrs. Jennifer Garetto and Mrs. Laura Bojkovski researched existing handheld computer projects at other schools and determined that most programs address limited components of students' educational needs. Desiring a more comprehensive solution, the educators pioneered an innovative program to integrate handhelds seamlessly into all areas of the curriculum and foster increased student organization. The school also decided to hold students accountable for the handhelds throughout the day and allow students to take them home at night as preparation for the itinerancy of Middle School the following year.
Although small in size, a handheld is a powerful learning device, that can help the student become a better reviewer, note-taker, writer, mathematician, and all-around organized individual. Garetto and Bojkvoski quickly realized that if not properly managed, the handheld could cease to be an educational aid and become a diversion. Therefore, the educators crafted a strategy to plan, prepare, educate, and integrate handhelds into their classroom.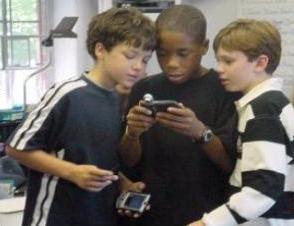 Planning was the most time-consuming part of the initiative. Garetto and Bojkovski relied on Avery's Director of Technology, Joseph Janovjak, along with the rest of the Technology Department for crucial input regarding equipment, infrastructure and support, while the educators planned strategies to address classroom management, student responsibility, and parent expectations. The teachers reviewed their existing curriculum and found areas where the handhelds could be integrated with little modification while adding significant value to the learning process. Garetto and Bojkvoski agreed to replace note taking, homework planners, and the writing process with handheld programs such as Memos, Tasks and the word processing software package Documents to Go. They planned enhancements to the science and social studies curricula through collaborative research projects via the beaming capabilities available in handheld devices. The educators also procured NoviiAnimator, an animation software solution, which allows students to demonstrate their understanding of scientific and mathematic processes. Garetto and Bojkovski determined they could reduce paper consumption by beaming assignments to students instead of distributing photocopies, and found Quizzler, an assessment program, which allows educators to implement paperless quizzes.
With ideas in place for the modified curriculum, Garetto and Bojkovski prepared to educate and integrate. The educators relied on Janovjak to procure a full cache of handhelds, charging stations, protective cases, a Bluetooth printer for wireless printing, and a Margi Presenter-to-Go, which allows handhelds to interface with LCD projectors. The educators handled classroom details including software installation, synchronization and charging processes and locations, and usage guidelines. The teachers focused on cultivating an environment where students could use tools that complement their learning styles, recognizing the natural alignment between young people's tendency toward technology and the educational benefits of adopting the handheld initiative. To accomplish this, Garetto and Bojkvoski created a "Pilot License" program for students to demonstrate their responsibility before taking equipment home and scheduled "Palm Parent Night" to manage parent expectations regarding the increased responsibility.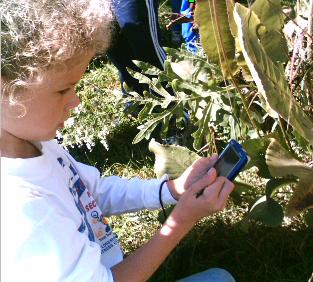 Garetto and Bojkvoski implemented the "Pilot License" program to educate students on proper care and usage, as well as to ensure that the nine-year-olds possessed the appropriate maturity and responsibility necessary to take their handhelds home. The students participated in seven mini-lessons on hardware basics, Graffiti, calendaring, tasks, word processing, beaming, and syncing. As students mastered each new skill, they earned a qualification mark on their "provisional" licenses, and after satisfying all requirements, they were issued "Palm Operator's Licenses" to reward their efforts. To further cement student mastery of the handhelds, the educators applied the well-known pedagogy "people retain what they teach" and structured "Palm Parent Night" around student-led mini-lessons and tech support. They also interacted with parents to answer questions, explain home technology requirements, and address parent concerns.
According to Bojkovski, "Taking time to plan and prepare was crucial to the program's success. It helped us anticipate many obstacles and find appropriate solutions."
As Garetto and Bojkovski fully integrated the handhelds, the students whole-heartedly embraced their use. Benefits include:
Documents to Go reduced the need for computer lab access and benefited all areas of the curriculum.
Science lab and research project collaboration improved due to students beaming data to each other.
Field trips were more productive as students transferred classroom lessons to authentic, hands-on experiences by taking pictures, drawing sketches, and creating charts.
Language arts was simplified by beaming worksheets to students, compiling vocabulary lists and learning definitions via an optional dictionary SD card, and writing assessments via word processed essays, in addition to the obvious reduction in paper consumption.
The math curriculum incorporated spreadsheets to organize survey data and master accounting lessons, reinforce new concepts by animating algorithms, and more easily assess computational skills via Quizzler.
Students' social studies research efforts benefited from handheld internet access, and Quizzler was used to master various facts, including states and capitals.
Student organization improved because notes, assignments, and projects were in one location.
Long-term projects were easier to manage because fourth-graders have a much steeper learning curve with organization than with technology.
One example of comprehensive integration occurred while studying prairies. Students took notes on class lessons and activities in their handhelds; teachers then beamed students data sheets. The class subsequently visited a local arboretum where students measured abiotic factors with probe attachments, took pictures of flowers studied in class, and performed a lab study in which they drew pictures of what they observed under microscopes. Upon return to school, students shared data via beaming, combined field trip data with classroom data, and wrote comprehensive reports via Documents to Go. The unit culminated with a Quizzler quiz, which was easier to administer, more fun to take, and easier to assess than traditional paper and pencil assessments.
When asked about his handheld, fourth-grader Andrew replied, "They are really cool. They're really awesome and you need them. I don't know what I'd do without one!"
With handhelds in hand all the time, students were engaged in the learning process, organized, and motivated to study. Due to the positive feedback from students and parents, Avery will continue the program in 2004-2005 and expand it to include grades five through eight. The successful integration of the handheld program is a continuing opportunity to provide immediate and unlimited access to technology.
When asked about her personal motivation for this program, Mrs. Garetto replied, "By equipping our students with this newest educational technology, we are providing them with the tools required to succeed in a digital age. While we shouldn't lose sight of the basics, it only makes sense that we reach this technologically literate generation on their own ground."