It's summer, and we've just finished this year's round of library work. In 2018-19, we completed a Digital Literacy Center project and an expansion of the Creativity in a Box work. These were both grant-funded projects for which we wrote the grant and then administered the work.
The Digital Literacy Center project was geared to increasing digital literacy skills for a primarily adult audience of traditionally under-served community members, including senior citizens, homeless, and low income residents. Here are some highlights and findings from this work:
We conducted 24 classes, as well as 37 individualized "drop in" tech help sessions, four school sessions, and seven train-the-trainer classes.
The program was enthusiastically received with 

98.9% of participants reporting learning something by participating in the program. 94.3% said they were more likely to participate in a similar library activity in the future.

The audience served was very diverse, ranging from those with very basic technology skills to those with more advanced proficiencies. The most popular classes were those related to smart phones and small business marketing.
The audience for the help sessions varied, but tended toward those with lower levels of technology proficiency. The most requested help topics were in using smartphones and recovering and managing passwords.
There is a big demand for both formal tech classes and informal tech help. The range of skill levels and types of questions along with the high degree of variability in individual device configurations requires flexible and experienced staff to meet these needs.
Through professional development that was offered (both formally and informally), the library staff not only gained new skills, but began to see themselves in a role to provide technical support and other non-traditional services. This was a huge move forward for the library and its patrons.
The curriculum developed for this program will be used in other parts of the county in 2019-20.
The expansion of the Creativity in a Box work allowed us to put these boxes in more locations around the county, to conduct 15 creativity-oriented workshops (primarily but not exclusively for youth), and to create new "Workshop in a Box" kits.
As we increased the reach of the program, implementation fidelity varied. Not surprisingly, the closer we were to the implementation (e.g. facilitating events vs. supplying resources and materials to others to implement), the more successful the results were. (This is a reminder that "train the trainers" type models are challenging.) At times, it was difficult to get information back from larger libraries that were not under county management. Staff changes were also a challenge. In addition, larger libraries seemed to struggle more with non-traditional resources like these. More professional development and support could help with this.
One of the most successful kits was the "Photo Challenge" kit, which includes 10 digital cameras, instructions, and photo challenges for kids to complete. This workshop is super-easy to conduct and is one of the most popular with participants, who have ranged from ages 2 to teenagers and even parents. Another very popular workshop is tie dyeing.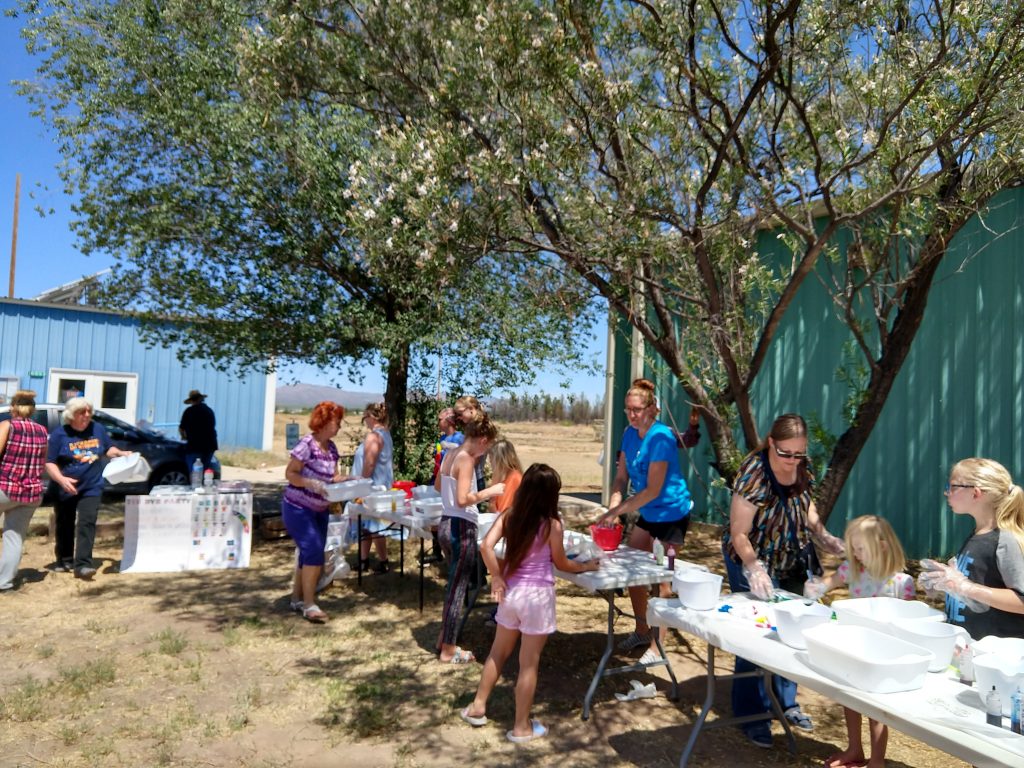 Overall, the project was a success with over 600 people participating, and 84.5% reporting that they learned something by participating. Importantly, there are a large number of resources (including 24 "Creativity in a Box" kits, four "Workshop in a Box" kits, and refills of consumables for all of this) that will be available to the nine participating libraries for years to come.
Sustainability is always a big consideration in the grants we administer. It is important to us that the work that is put into a grant be able to continue on after the grant funding concludes. (For example, our Free Book Box project is still going strong a couple years after the initial funding cycle.)
For 2019-20, we have on tap a Mobile Technology Lab project that will make a mobile lab of laptops available to smaller rural branches and will also expand our offering of tech literacy classes and individual help sessions. We are also going to be doing another oral history project. The first work we did in this area was in Portal. This new work will be more extensive and involves another local community.